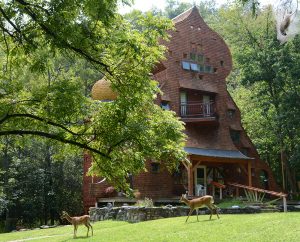 August 2018| Hillsboro, WV
( date da definire )
Clown One Italia, Clown One Japan, Patch Adams MD, and the Gesundheit! Institute invite you to join us this summer on our land in rural West Virginia. 
The Experience

We invite you to spend a week dedicated to reflection, play, and rediscovering the joyful and creative potential of our body and of our inner Nature (our soul), while basking in the wonderful outdoors of the Gesundheit Institute in beautiful West Virginia.
It's a week dedicated to the art of care, as a way to better understand ourselves, discover our body, explore Nature, and reflect on the different facets of care.
We'll take in nature, walk in the woods, live in community, share, and explore the possibility of taking care of ourselves and of others through play, water activities, clown theater, meditation and voluntary social work.
It's an invitation to rediscover our inner and outer Laughing Body.
Themes
Art of Care: As a way to better understand ourselves, discover our body, and reflect on "Care".
Living in Community: A week dedicated to exploring the possibilities of communal living.
The Laughing Body , the Listening Body : An invitation to rediscover our inner and outer Laughing Body, that jumps and plays, senses and appreciates itself and it's environment. It's an invitation to explore our bodies through listening and interacting with nature. This workshop focuses on tuning in with one's awareness and one's connection with the natural surroundings.
Earth: A celebration of our union with nature, and how we care for it, along with the environment and others.
Walking meditation: A focus on our awareness and the intelligence of nature.
The theater of the clown: An exploration of improvisation and clown technique in the extraordinary and the ordinary: humor and clowning in all environments, being in the present, wonder/imagination, and mindfulness.
The Invisible Body : Dance and body work in Nature.
Traditional Japanese Tea Ceremony: The art of ritual and celebration.
Who is offering this
Facilitators and presenters include:  
Patch Adams — Entered medical school in 1967 to use medicine as a vehicle for social change; promotes and practices living a life of public joy as a revolutionary act; fountain of ideas for avoiding burn-out in long-term social justice and health. Enthusiator.
Ginevra Sanguigno — Actress and dancer. Since 1981, has used theatre as a vehicle for social change through her work as a clown, instructor, enthusiator. Founder of Clown One Italia in 2000. Organizer of humanitarian clown missions worldwide since 2003.
Italo Bertolasi — Body worker, shamanic culture researcher, writer. Since 1965, travels and walks in the wilderness to explore the world in search of ways to build bridges between people and culture. Organizer and instructor of Clown One Italia.
Mariko Kanemoto — Musical therapist, clown, counselor, tea ceremony and origami clown master, founder of Clown One Japan.
Who is invited
You are! No prior background is required, just concern for the welfare of others and willingness to try things out.
General informations
Cost | $800 for tuition, room, board and transportation pick up & return. Scholarships are not available. Be Prepared to pay your $200 deposit to confirm your participation.
Where? | The program takes place on the Gesundheit Institute's 320 acres in the Blue Ridge Mountains, with mountain trails, waterfalls, extensive gardens, and a lake. Gesundheit's project-in-progress is a  unique model of holistic health care that will serve as an inspiration for us to coax each other to dream big—in our personal lives, in our community involvement, and in our contributions to global peace and justice
Facilities | Gesundheit lays on a pristine tract of farm and mountain land in rural West Virginia. The dacha, with its onion domes and Russian architecture, serves as a residence and meeting place, and has won awards for its unique design.
Meeting Spaces | Gesundheit Institute offers many unique meeting spaces and classrooms. There are quiet spaces for meditation or study and large rooms to house workshops and classes. Gesundheit hosts events focused on education—at the site of the future hospital and elsewhere.
Accommodations | Accommodation are in dormitory-style group settings. There are laundry machines at Gesundheit that you can use. We offer very slow WIFI (cannot download, cannot use skype, sorry!). Clean sheets and towels are provided.
⇒ Gesundheit staff will shuttle people to and from the train station in White Sulphur Springs and the airport in Lewisburg
Registration form: Please take a moment to fill out the registration form and make your payment by Credit Card or Bank Transfer. We are only accepting 20 participants and we suggest you submit your application as soon as possible to guarantee your spot. Be Prepared to pay your $200 deposit to confirm your participation.
Please Send your Final Payment by July 15 to confirm your participation to workshops in August. Scholarships are not available.
Questions?
Please Contact: Ginevra : clownoneitalia@gmail.com